Walk-in Cooler Considerations and Construction Farminar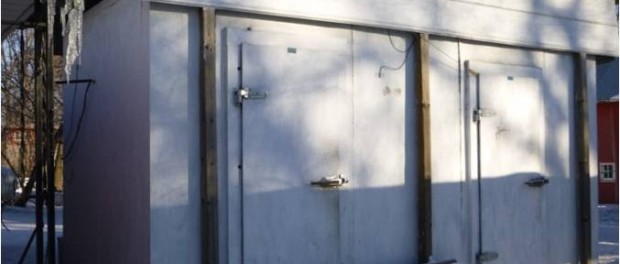 Walk-in Cooler Considerations and Construction presented by Tim Landgraf, Tony Thompson Tuesday, Feb. 23, 2016 - 7 p.m. CST 
Ensuring the fruits and vegetables produced by your farm make it to the consumer in the best possible condition requires proper storage between harvest and delivery. Tim Landgraf from One Step at a Time Gardens will discuss the three types of walk-in coolers he has used over the farm's 20-year history. He will also cover important considerations when choosing a cooler, such as size, temperature, shelving, product life and common issues. Tony Thompson, of New Family Farm, will discuss the process he recently went through to build his own walk-in cooler, and share his blueprints, material, and advice for those thinking of doing the same.
Tim Landgraf and Jan Libbey have operated One Step at a Time Gardens near Kanawha, Iowa, since 1990, raising produce that they market through a CSA, as well as chickens. They offer a variety of CSA share options from mid-May through December, and direct market their chicken.
Tony Thompson is a beginning farmer operating an expanding CSA on his family's Century Farm near Elkhart, Iowa. Tony serves on the boards of the Iowa Farmers Union and Iowa Food Co-op.
How to Participate
Click the "Join in" button
Select "Enter as a Guest" and type your name in the blank, then click "Enter Room"
Winter Farminar Schedule
J
an. 12 -
 "Nuts and Bolts of Small Grains Production" Presented by Klaas Martens.  
Now Archived!
Jan. 19

- 
"What a Small Grain Crop Can Afford You: Diverse Covers for Grazing" Presented by Mark Peterson and Colten Catterton.
Now Archived!
Jan. 26 - 
"Benefits of a Small Grain in Organic Rotations" Presented byGeorge Schaefer and Erin Silva.
Now Archived!
Feb. 2 - 
"Moveable High Tunnels: Pros and Cons" Presented by Mike Bollinger.
Now Archived!
Feb. 9 - 
"Herbicide Restriction Considerations for Using Cover Crops as Forage" Presented by Joe Sellers and Tim Palmer.
Now Archived!
Feb. 16 - 
"Seed Starting 101: Two Examples" Presented by Susan Jutz and Glen Elsbernd.
Now Archived!
Feb. 23

- 
"Walk-in Cooler Considerations and Construction" Presented by Tim Landgraf and Tony Thompson
March 1

-  
"Important Farm Financials" Presented by Paul Quam
March 8

-  
"Neonicotinoid Seed Treatments: Are They Necessary?" Presented by Dick Sloan and Matt O'Neal
Practical Farmers of Iowa's 2016 winter farminars are made possible with funding from Ceres Trust, Iowa Department of Agriculture and Land Stewardship's Water Quality Initiative & Specialty Crop Block Grant Program, Leopold Center for Sustainable Agriculture, National Resources Conservation Service and the Walton Family Foundation.