Organic Farm Seeking Apprentices in Virginia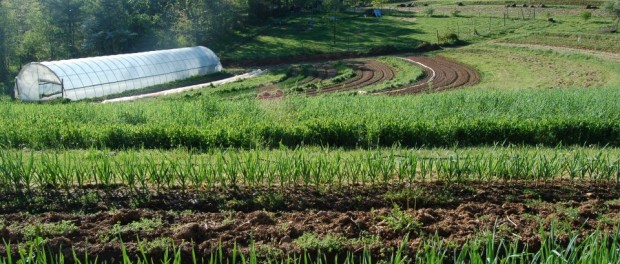 Waterbear Organic Farm Seeking Apprentices for the 2016 Season
Waterbear Farm is a small certified organic market/CSA garden tucked up in the Blue Ridge Mountains in south-western  Virginia. We have 100 acres of mostly forest and pasture with 5 acres of cultivated land including a hightunnel. We have two ponds and many springs for water supply. We feed 70-100 CSA members in Floyd, Christiansburg and Roanoke with 2 deliveries a week for buffet selection. We allow members to fill there own bag from our table rather than pre pack boxes. We also do at least one farmers market and wholesale accounts. We practice a mix of intensive bed plantings, permaculture, row cropping with tractor cultivation and overseeding/semi wild cropping. We plant and tend about 5 acres. The farm is about 7 miles from the Bustling little music hub town of Floyd. You can bike there. We often have a vehicle you can use also. We use Biodynamic and Permaculture methods. We are looking for 4 apprentices this year to help and learn for the growing season from
april 21st to nov 1st
. We do take people who cannot do the entire time. We keep a healthy schedule with free time , breaks, vacation weeks. Primarily you will be learning by doing. All the actions of  planting, watering, weeding, harvesting, processing, packing and working a CSA drop or farmers market. We keep our work limited to 5 days a week and 7 to 9 hours a day. You will be learning the specific needs and tendencies of 40 different vegetables and herbs,medicinal herbs and sprouts. You will learn to use and Identify local medicinal herbs and how to present them to CSA members. You will learn how to read plants and soil, how to use many different hand tools, how to use drip and other irrigation materials. You will learn and master specific seeding, weeding, harvesting, storage, and packing techniques. You will also be doing cummunal cooking and cleaning chores, taking walks in the amazing forest, exploring the Little River, checking out the many happenings, events, classes and activities in our progressive greater community. Accommodation is maintained campsites in the woods on the farm: your own tent on a platform, under a large tarp. Outhouse, shower and kitchen facilities provided as well as pond for swimming on hot afternoons. Communal meals with cooking duty as part of the work day.
Community Lifestyle. Lots of great food. Beautiful environment. Happy people and animals.
You will learn how to grow food and much more.
Waterbear Mountain Organic Farm. Fresh Picked Organic Vegetables
477 rain dance rd ne , Floyd Va.