Permaculture Skills Center's Farm School Program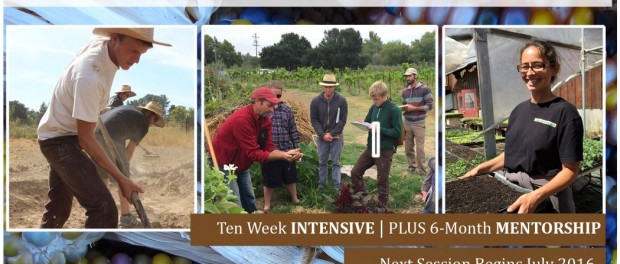 The Permaculture Skills Center is currently accepting applications for its 2016 Farm School program in Sebastopol, California.  With a focus on skill-building, business-training, mentorship and land-access, Farm School is about cultivating the skills and relationships you need to begin and sustain a successful farm enterprise. Taught by leading farmers and farms of Sonoma and Marin County, Farm School supports you in creating a holistic, regenerative farm business.  Learn how to grow food, medicine and raw materials while enhancing water quality and abundance, increasing bio-diversity, building soil and restoring ecosystem health.  Join a cohort interested in exploring functional models of diversified, integrated and permaculture-inspired farm systems that address food security at all levels.  Farm School is a comprehensive, mentored, project-based training on the practical knowledge needed to launch a farm business and take your place in the local food economy. Farm School graduates will also receive a 200-hour PDC, Permaculture Design Certificate upon completion of the program.  
www.permacultureskillscenter.org
Farm School starts with a 10-week intensive, followed by an integrated 6-month mentorship.  Students attend class Sunday-Tuesday each week from July 10-September 20, 2016.  Beginning with an in-depth design process, you will learn how to build and support a holistic, regenerative farm system that will increase the life-supporting capacity of land and your revenue.  Our curriculum covers topics such as water systems, soil science, crop planning, agroforestry, energy systems and harvesting techniques.  Each week incorporates a full day of business planning and coaching, evening lectures from successful farmers in the region, and detailed farm tours.  Following the intensive, you will be paired with a supportive mentor, and the next 6 months will be a time of learning-by-doing to build upon your profitable farm or food-related business. This dynamic and well-versed program is one-of-a-kind.  Farm School is an active step towards becoming a leader in ecological stewardship while developing a deep understanding of land systems, agricultural policy and pathways for social influence. Early Bird tuition (ends April) and a limited number of work trade positions are available. Housing not included. Submit your application for the Permaculture Skills Center's Farm School online at 
www.permacultureskillscenter.org
.  Questions can be sent to our program coordinator at 
lee@permacultureskillscenter.org
.  Applications accepted until filled, program begins July 10, 2016.