Farm Apprenticeship Opportunity in Florida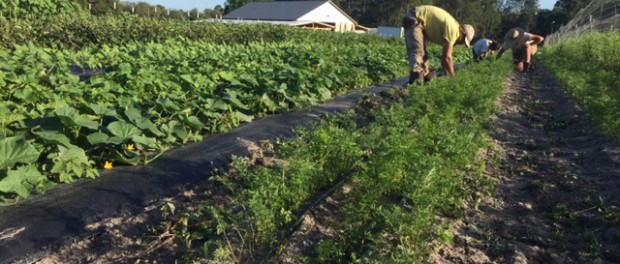 Farm Apprenticeship at Little Pond Farm in Bushnell, FL for 2016
Little Pond Farm is a diverse organic vegetable and cut flower farm coming into its fourth season. We are cultivating four acres of crops on a 26 acre farm property in rural Sumter County, Florida. We attend one weekly farmers market from October till May. We grow for a small CSA and distribute to our members through our Saturday market. We are farming organically, and are in the process of becoming certified organic. Our goals are to farm in a way that is regenerative for the land, reduce our reliance on outside inputs, be a legitimate and accessible food source for our customers, build our soil and maintain a healthy farm ecosystem. We gear our production towards building the fertility and organic matter in the soil, efficient use of space, and abundant yields. While vegetable production is our focus, we also have three cows that we rotate to graze our pastures and a small flock of hens for eggs. We use two tractors for spreading and turning compost, tilling, and moving things around, but we try hard to reduce compaction and our reliance on machinery, so the majority of our work is done by hand. We grow year-round but our main operations occur during the market/CSA season. We have a knack for experimentation, trialling, record keeping, and working efficiently! Read more about the farm and farmers
here
!
Farm Apprenticeship
As an apprentice on the farm daily tasks will include: seeding, weeding, planting, mulching, irrigating, transplanting, harvesting, watering the greenhouse, working market, chores, occasional small construction projects, cooking, etc. Your main focus as an apprentice while at Little Pond will be to master these daily activities and build confidence in organic farming methods and skills required. You will also learn about crop planning, cover cropping, floriculture, composting, soil fertility, variety selection, CSA and direct marketing, troubleshooting and research, efficiency of tasks and movements, record keeping, and more. We aim to provide you with an array of valuable learning experiences and a thorough understanding of how our farm operates. Apprentices are encouraged to ask questions and request further details in areas of particular interest. Some education will be formal, but most is informal. Working with heavy machinery including tractors will be limited to the end of the season when our main daily operations slow down, so please understand you won't come away with a mastery of tractor work. Farmwork takes a lot of stamina, flexibility and strength, as well as delicate precision (i.e. seeding, hand weeding) and good physical shape is required. This job is physically and emotionally demanding, but also overwhelmingly rewarding and meaningful. Good communication is of utmost importance and ability to carry out instructions and follow through with a plan is necessary. We have a very strong work ethic and will expect the same of you. Experience working outside is strongly recommended. We will work through cold, heat and rain. We have found that those with a positive attitude, keen sense of observation, eagerness to learn and feeling of satisfaction that comes with hard work will be greatly fulfilled. We value self-motivation, creativity, carefulness, patience, efficiency, problem solving, organization, eagerness, sense of urgency, independence, respect and responsibility. Experience in agriculture is not required but a serious consideration of farming as a career is critical. A good apprentice candidate has taken a serious interest or passion for agriculture. We have found that those that care deeply about the work will be the most greatly fulfilled. You will spend a full season from start-up to break-down alongside us learning the ins and outs of a working farm operation. You will see all of the crops go in, and all of them come out through the course of the seasons changing. You will leave the farm with the skills and qualifications to work at other veggie or flower farms, or start up your own. As an apprentice you will have access to our farm resources and materials including but not limited to: attendance at farm conferences, farm field trips, a small farm library of agricultural books and papers, and all access membership to Growing for Market. We have openings for four apprentices to join our team. If you would like to join us in the coming season, apply below!
Farm Apprenticeship Details and Arrangements
The apprenticeship begins in late August and ends mid-June. You must be able to commit to the farm from August 29th till June 9th. If you are arriving from another farm and have date conflicts, we might be able to work around them. Your first two weeks will be a trial period to ensure you are a good fit for the farm and the farm is a good fit for you. If it is not, you may be asked to leave. Our workweek is Tuesday through Saturday. Daily work starts at sunrise and typically ends at sunset through the bulk of our season. This means 50 to 60 hour weeks are typical, but we do not clock in or out. With that said, we recognize the importance of days of rest and the need to recharge. Chores are rotated on the weekend (i.e. chicken maintenance, watering the greenhouse), and expect to work the very rare six day week (i.e. farm event or when a surprise frost comes). Accommodations are a small, furnished room in the barn. We use an outdoor composting toilet, and an outdoor shower (with hot water). We share a barn kitchen. Breakfast is up to you, but we rotate cooking crew lunches- a great way to experiment with and enjoy our seasonal abundance. Dinner is unstructured. In addition to a room, all kitchen staples, and farm produce, you will be paid a stipend of $300/month. Kitchen staples will be decided as a group (i.e. bread, herbs, grains, beans, oils, etc.). We are also living in close quarters in a communal setting, so it is essential that you can: be kind, be respectful, and clean up after yourself.
Requirements
Ability to lift 60 pounds Stamina for hard work and direct sun Self-motivation Capacity for teamwork Positive outlook Adaptability Receptivity to new ideas Consistency Reliability Friendliness and people skills
If you are interested, apply for the farm apprenticeship at
https://littlepondfl.com/apprenticeship/