Online Program in Food Industry Management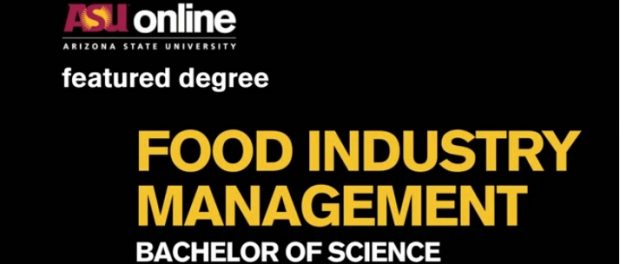 Arizona State University Now Offering Online Program in Food Industry Management
Arizona State University is now offering
an online Bachelor of Arts in business with a concentration in food industry management
, which is designed to prepare graduates for business careers in the food industry. Provided by the Morrison School of Agribusiness at ASU, this program was developed in close coordination with partners in the food industry from the farm to retail stores, restaurants, and institutions. Students in the online FIM program will learn necessary skills in supply-chain management, marketing, human resource, and finance needed to face challenges in the food industry. This program includes 18 credit hours in courses such as:
food advertising and promotion,
microeconomic analysis of food markets,
food supply networks,
food retailing,
and food product innovation and development.
There is a growing demand for professional management in a field that is becoming increasingly global and competitive. The food industry employs roughly one out of six people nationwide, and these needs continue to grow and change to meet the evolving needs of a global economy. "More than ever, the food industry demands leaders who can think strategically and globally, have a solid understanding of business and economic principles, and an appreciation for the unique aspects, idiosyncrasies, complexities, and challenges of the food industry," says Mark Manfredo, ASU Food Industry Management faculty member. ASU's program has been created to meet these challenges of today's food industry. This degree program is well-suited for students interested in pursuing careers at food industry firms and organizations in roles pertaining to management, agriculture, food science, and conservation. This online program is designed and administrated by the same faculty involved with the in-house program at ASU's W.P. Carey School of Business, and students are afforded the same resources and support as on-campus students. Fall semester for the online program in food industry management beginnins on October 12
th
2016. ASU Online offers six start times every year ; check ASU's academic calendar for further start dates. For more information about how ASU Online works, visit:
https://asuonline.asu.edu/how-it-works/learning-online-at-asu