Farmer Field School Workshops in Michigan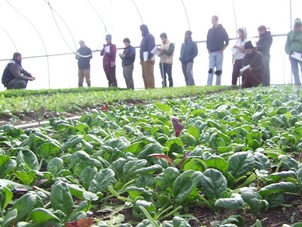 Farmer Field School Workshops on Scaling Up, Financial Planning & Growth and Farm Labor
Trying to navigate changing the size of your farm? Join this November Farmer Field School workshop - Scaling Up (or Down): Finding and Getting to the Right Scale for Your Farm
Sunday November 6th, 9am-5pm
$150 for 1 person ($40 additional for a 2nd person from the same farm)
Workshop Presenters:
If you are looking for...  The best scale for your farm business to maximize success... The right ratio of overhead and costs relative to sales and income... Return on Investment (ROI) for your capital and equipment investments... Rules of thumb for infrastructure, equipment, management time, and labor at small-medium-large farm scales... Help strategizing about how to grow or right-size your operation...
...this workshop is for YOU!
Strategic Business Planning & Management:  Markets, Finances, Production, HR and more
Saturday, December 10th, 9am - 5pm
Advanced Strategic Business Planning & Management:  Finances Deep Dive, Strategic Investment, Capital Access, and Growth
December - (Date TBD)
Farm Labor: Getting, Managing, and Keeping Good Labor for Your Farm