Soil Conservation News and More…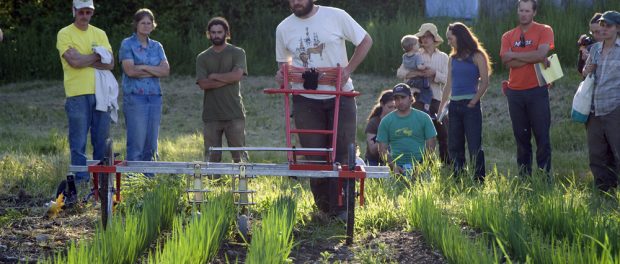 The latest news from the National Sustainable Agriculture Coalition featuring - Soil Conservation News, Farmers Guide to the VAPG; and Reorganization at the USDA...
SOIL CONSERVATION NEWS 
Conservation Stewardship Program: Advancing Soil Health
Last year, CSP underwent a program "reinvention" to make it more transparent, accessible, flexible, and farmer friendly. As part of the reinvention process certain changes were also made to further boost CSP's efficacy at helping farmers address soil health issues. Recognizing the growing importance for programs like CSP to address soil health, NSAC has analyzed CSP's performance on this issue using data from its fiscal year 2016 sign-up period. Our analysis focuses on the CSP conservation activities that have particularly outsized impacts on soil health...
NSAC NEWS 
"Farmers' Guide" Will Help Producers Navigate VAPG
This week, NSAC released an updated version of its Farmers' Guide to Applying for the Value-Added Producer Grant Program, which is available for free on NSAC's website.  On Monday, August 28, USDA finally announced its 2017 Notice of Solicitation of Applications for the Value-Added Producer Grant Program (VAPG). VAPG is a critical program for farmers and food entrepreneurs nationwide, because it helps them turn raw product into processed goods (e.g., milk into cheese or apples into apple-cider) that can bring in significantly more revenue. VAPG funds can be used for working capital, feasibility studies, business plans, and for marketing efforts to establish viable value-added businesses. Up to $75,000 is available for planning grants and up to $250,000 is available for implementation grants.
USDA NEWS 
Trump Administration Undertaking Historic Reorganizing of USDA, But to What End?
Back in May, US Department of Agriculture (USDA) Secretary Sonny Perdue announced a USDA reorganization plan that eliminated its Rural Development Mission Area and downgraded the status of what was the Under Secretary for Rural Development to an Assistant to the Secretary for Rural Development, closing the Office of the Under Secretary in the process. USDA Secretary Perdue has indicated there will be several more USDA reorganization moves coming down the pike, and the second shoe dropped on September 7. As yet, the Department has not released any detailed plan for this latest round of the reorganization, so to date all that can be analyzed is a fairly short press release that lists the agencies and offices that will be changed.