Farm Manager Job Available in Oregon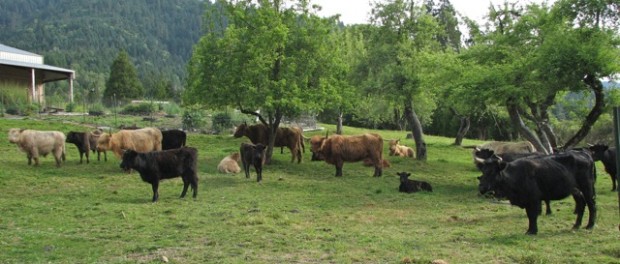 80 acre ranch in Azalea, OR, seeking on-site manager with or without partner to help make property thrive. Very rural location but close to I-5 in USDA Zone 8a (small town 12 miles, medium cities 40 miles). Long-term commitment highly desirable. Our goal is to have reliable person(s) who can mind the farm for days and weeks at a stretch if we need to leave (owners live on site). Current operations include a small herd of beef cattle on irrigated pasture, large chicken coop with egg sales, fruit orchard, large gardening areas, berries and vineyard. We anticipate the workload averaging about 35 hours a week during summer, and 25hr/wk during winter; more if you want to start some new projects. This opportunity can grow about as much as you'd like. First 6 months are probationary, paid as contract worker. For the right person we hope to switch to regular employment. Duties: manage ranch, livestock, irrigation system; improve meat quality; improve pasture, improve water runoff erosion, maintain fences and driveway; coop maintenance; orchard management, greenhouse work; gardening, weeding, weed whacking, mowing; handyman projects; forest management/firewood. Bonus points for small engine repair, skilled carpentry. Essential skills and interests:
Handyman skills
gardening/agrarian lifestyle/organic or best practices
Strength (ability to lift 50 lbs and occasional 150lb bales) and good health
ability to start work early in the morning, work hard, get hands dirty with lifting, digging, operating chain saws, ATV, and other equipment
Willingness to learn
Requirements:
Health insurance
Driver's license, vehicle, and insurance
References
Stable, progressive person
Prohibitions:
Illegal drugs, tobacco
heavy drinking
horses (sorry, rehabbing the land)
free-roaming cats
dangerous dogs or other dangerous animals.
Temporary housing will be in our nice RV or yours while an old doublewide is being replaced with stick-built 2 bedroom home (nearly completed). Estimated rent will be 9 hours work per week and after rent is paid there will be hourly wages (starting at $12/hr with regular and/or performance and skill based raises). Maintenance of house, yard and garden will be required on own time, as is woodcutting for personal use. Other perquisites include eggs, beef, hunting and fishing, and harvesting forest products like mushrooms and berries. We want the manager and/or partner to pursue additional self-directed projects for outside income: have a market/CSA garden, raise small meat animals, cider-making, whatever seems appropriate for the land and his/her interests and is OK with owners. We provide use of some land for free. Email leenyetter@gmail.com with resume and references, or questions. dragonflyeggs.weebly.com