Sustainable Living Community Opportunity in Pennsylvania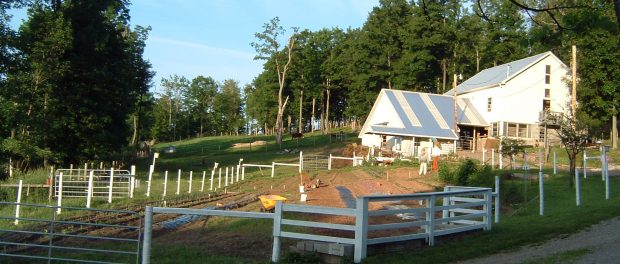 Sustainable Living Community Opportunity Available in Pennsylvania - Farmland, Barn, Housing...
We would like to support a sustainable living community on our farm. There are currently three housing units available and a few more tiny homes could be included. All members of the community would have access to a barn, fenced pasture, a hen house, a turkey house, a small pond, portable chicken tractors, garden spaces, a green house, a hoop house, an apple orchard, a two acre wild blueberry field, a certified kitchen with sausage making and baking equipment, an on farm dining room, a retail store, maple syrup production facilities, two honey bee hives, all farming hand tools, a cold storage unit, freezers, and trailers for transporting goods to markets. Each member may create a sustainable living for themselves and their families but must have off farm income or the ability to generate income from the farm to cover their share of community expenses such as taxes, liability insurance, utilities, maintenance etc. All business generated from the farm must be under an individuals farm name with their own business insurance and any additional utilities required over and above those for their living quarters or common area allotment shall be at their expense. Some possible farm income could include, farm to table meals, value added product sales, retail store sales, farm market sales, or CSA sales. For information about the current status of the farm see
www.berryfieldfarm.net
The farm is located in the beautiful Endless Mountains of Pennsylvania. It is adjacent to state game lands on two sides and has one active spring. There are no active non organic farms nearby to compromise the purity of foods produced on the property. The resort community of Eaglesmere and Worlds End State Park are very nearby. Contact info
gerlach@epix.net
or
570-924-3019
Barbara and Charlie Gerlach Berry Fields Farm It is your responsibility to chose healthy food. It is our responsibility to provide healthy food for you to chose.