This page provides information about beginning farmer training programs specifically targeted toward military veterans.
Our Farming Organization of the Year Award for 2010 went to the Farmer-Veteran Coalition (see
http://beginningfarmers.org/farming-organization-of-the-year-farmer-veteran-coalition/).

In a recent issue of the New York Times, there was a great article featuring the work of this organization as well as Archi's Acres which is also described below. I have included an excerpt and link below, along with links to several other similar efforts to help veterans get into farming.
Helping Veterans Trade Their Swords for Plows By (PATRICIA LEIGH BROWN – New York Times)
EXCERPT: On an organic farm here in avocado country, a group of young Marines, veterans and Army reservists listened intently to an old hand from the front lines. "Think of it in military terms," he told the young recruits, some just back from Iraq or Afghanistan. "It's a matter of survival, an uphill battle. You have to think everything is against you and hope to stay alive."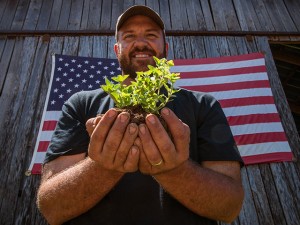 The battle in question was not the typical ground assault, but organic farming — how to identify beneficial insects, for instance, or to prevent stray frogs from clogging an irrigation system. It was Day 2 of a novel boot camp for veterans and active-duty military personnel, including Marines from nearby Camp Pendleton, who might be interested in new careers as farmers.
"In the military, grunts are the guys who get dirty, do the work and are generally underappreciated," said Colin Archipley, a decorated Marine Corps infantry sergeant turned organic farmer, who developed the program with his wife, Karen, after his three tours in Iraq. "I think farmers are the same."
Programs Throughout the Country are Working with Veterans to Help them Develop the Skills they Need to Become Successful Farmers:
– Colin and Karen Archipley run a small organic farm near San Diego called Archi's Acres where they try out course work for veterans they train in hyrdroponics and other sustainable farming techniques. "They were trained to use rifles and coordinate air strikes, not operate businesses," says Colin, himself a decorated Marine sergeant, "but we tap into the leadership skills they've obtained in the military." Together the Archipleys are planting seeds of future occupations for soldiers returning from Iraq and Afghanistan. Colin and Karen told the story at Fast Company's recent Most Creative People event in New York, and the crowd responded with a roaring standing ovation. A video of this presentation is available at: http://video.fastcompany.com/videos/4048252221d26/formats/web_medium/file.mp4 Also see the Nightly News feature at http://www.msnbc.msn.com/id/21134540/vp/46333896#46333896
– Veterans Farm in Jacksonville, Florida was started by Sgt Adam Burke, an OIF/OEF combat veteran and Purple Heart recipient who was wounded in battle during a 15 month tour in Iraq. (See his story at soldiering on http://www.nragive.com/ringoffreedom/index.html). In 2009, Adam was moved, when he noticed a young able and willing veteran sitting in the mall hungry and depressed. He could see the veteran was too proud to ask for help and knew he had to find a way to help his fellow soldiers. Just a hand out would not be sufficient, but a sustainable way to get their life back on track was the key. This is where the concept to combine therapy, work, education, and socialization through growing blueberries and blackberries was discovered. You can learn more at http://veteransfarm.com.
Delaware Valley College offers an organic farming program for veterans. Check out their website at: http://www.delval.edu/academics/for-military-members-veterans/veteran-organic-farming-program
The Veterans to Farmers  Program in Colorado was started in 2011 and trains military veterans in organic and hydroponic production. See out feature story on this organization at http://www.beginningfarmers.org/veterans-to-farmers-program-grows-in-colorado/Be sure to check out their website at: http://veteranstofarmers.org/
– Goat Peak Ranch is a small ranch located near Red Wing, Minn., and owned and operated by Lynette Nadeau and her husband Keith Cahill (Vet US Navy). They own the largest herd of pure DNA certified rare Savanna meat goats in the area. The Goat Peak Ranch Veteran's Internship Program will have its first season this year starting this Spring/Summer. I will develop and direct all Veterans activities for our participants. We will offer weekend and week long sessions to start, then as the Program develops we will be accepting Vets who would like to assist us with year round ranch activities. Learn more about the ranch at its website: www.goatpeakranch.com.
– Heroic Food, is based in Columbia County, NY and is being developed in collaboration with the Farmer Veteran Coalition. It's a residential, tuition-free program, and participants will have paid training positions on farms and other income streams throughout the program. You can learn more on their website at http://heroicfood.org or on Facebook at www.facebook.com/heroicfood.
– Check out a great new film about veterans returning from the war to start a life in farming at: http://www.groundoperations.net/
To see a preview of "A Greater Mission" go to: http://www.groundoperations.net/
– The Michigan State University Vets to Ag Program is a 6 week program administered by Tom Smith, and is a unique program to train homeless US veterans to work in agriculture. Training is coordinated by the MSU Institute of Agricultural Technology and is delivered by experts from MSU faculty and staff, including MSU Extension, Kellogg Biological Station, and the private sector. Training includes: Basic plant and soil science; Equipment and workplace safety; Equipment operation; Computer skills; Integrated pest management; Training for the Michigan certified pesticide applicator exam; and Specific training in a broad range of agricultural industries. For more information go to: http://iat.msu.edu/iat/vets_to_ag.
– Veterans Green Jobs is a nonprofit organization located in Denver Colorado. Their mission is to connect military veterans with meaningful employment opportunities that serve our communities and environment. We help vets find career opportunities in stable economic sectors related to energy efficiency and energy conservation; clean and renewable energy; natural resource conservation; environmental restoration; and other sustainability sectors. Founded in 2008, Veterans Green Jobs operates programs in a variety of sustainable fields. We believe that by equipping our nation's military veterans with transferable skills, tools and resources, Veterans Green Jobs will enable veterans to maintain their sense of service, give back to their community, and contribute to a healthy, sustainable and secure future for people and the planet.