The Finding Land To Farm page provides information about:
Finding land for sale

Tips for finding land

Resources for drawing up contracts

A state-by-state listing of Land-Link programs

And more…
Individuals interested in purchasing farmland might also be interested in our Funding (Loans/Grants) Page, which lists resources related to funding land purchases and other needs.
This page is organized into three main sections:
General Resources about finding land to farm, both national and regional.
Land listing services, both national and regional.
LandLink programs by state. LandLink programs "link retirement and farm exit approaches with farm entry strategies." For additional information on LandLink programs visit the

International Farm Transition network (IFTN)

.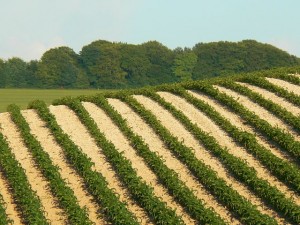 1. General Resources about Finding Land to Farm
National
Regional & State
3. The following is a State by State listing of Land Link Programs

This listing is adapted from the listing of network participants in the International Farm Transition Network.
California: California FarmLink
http://www.californiafarmlink.org
Connecticut: Connecticut FarmLink
www.farmlink.uconn.edu 

Florida: Florida Farm Finder
http://floridafarmfinder.org
Iowa: Beginning Farmer Center
http://www.extension.iastate.edu/bfc/
Maine: Maine Farmlink
http://www.mainefarmlink.org
or New England Land Link
http://www.smallfarm.org/
Maryland: Eastern Shore Land Conservancy
http://www.eslc.org
Massachusetts: New England Land Link
http://www.smallfarm.org/
Minnesota: Land Stewardship Project
http://www.landstewardshipproject.org
Montana: Land Link Montana
http://www.missoulacfac.org/landlinkmontana.html
Nebraska: The Beginning Farmer Program
http://www.nda.nebraska.gov/beg_farmer/index.html
New Hampshire: New England Land Link
http://www.smallfarm.org/
New Jersey: State Ag Development Committee
http://www.nj.gov/agriculture/sadc/farmlink/
New Mexico: Central New Mexico Land Link
http://www.mrcog-nm.gov/local-food/land-link
New York: NY FarmLink
http://www.newyorkfarmlink.org/
or New England Land Link
http://www.smallfarm.org/
North Carolina: North Carolina Dept. of Agriculture
http://www.ncagr.gov/paffairs/agreview/index.htm
Ohio: The Countryside Conservancy
www.cvcountryside.org
Oregon: iFarm Oregon
http://www.ifarmoregon.org
Pennsylvania: Pennsylvania Farm Link, Inc.
http://www.pafarmlink.org/
or Center for Farm Transitions
http://www.iplantofarm.com
Rhode Island: New England Land Link
http://www.smallfarm.org/
Vermont: Family Farm Succession in Vermont
http://www.uvm.edu/farmtransfer/
or New England Land Link
http://www.smallfarm.org/
Virginia: Virginia Farm Link program
http://www.vdacs.virginia.gov/preservation/program.shtml
Washington: Washington FarmLink
http://farmlink.cascadeharvest.org/
Wisconsin: Midwest Organic and Sustainable Education Service (MOSES)
http://mosesorganic.org/farming/land-link-up/