Virginia Beginning Farmer and Rancher Coalition Video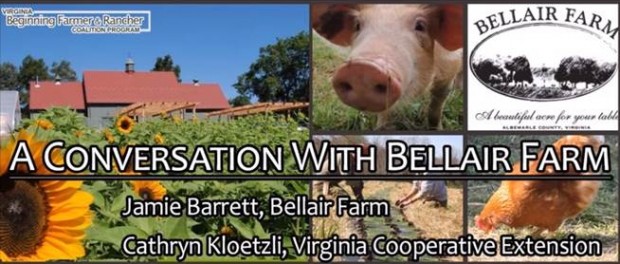 Video of Farmer Conversation with Bellair Farm Released on Virginia Beginning Farmer and Rancher Coalition YouTube Channel
In this video, Jamie Barrett, owner of Bellair Farm, tells us about his vision for improving the farm in the future. Bellair Farm is a CSA located in Charlottesville, VA. Their website can be found at: 
http://bellairfarm.com/
Watch the video and subscribe to the Virginia Beginning Farmer and Rancher Coalition YouTube channel at: 
https://youtu.be/L66Y9cuLQKY
The Virginia Beginning Farmer & Rancher Coalition Program (VBFRCP) is a state-wide and coalition-based Extension program.  Our long-term goal is to improve opportunities for beginning farmers and ranchers to establish and sustain viable agricultural operations and communities in Virginia.  To reach our goal, we support the development and enhancement of whole farm planning curriculum and training, online resources, social networking, and farmer mentoring.  Unique to our effort is a coalition of agricultural organizations and farm business that work together to develop and implement programming aims. The Coalition formed in the fall of 2010 as a way to more effectively address start-up needs of Virginia's beginning farmers and ranchers. Coalition partners  represent a diverse stakeholder group.